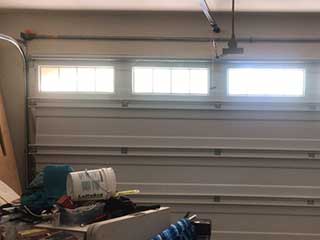 An automatic garage door is a key addition to any family home. Not only does it house your car and other valuable belongings, it should also keep your home and family safe and secure. To get the most out of your door, and extend its service life, regular maintenance is important. Our company knows how to identify little problems before they become big ones, and to nip them in the bud.
Complete System Examination
One of the most important services our company offers is a complete examination of your garage door mechanism. This includes the hardware parts like the panels, cables and tracks, as well as the motorized unit and its different components. This examination will go a long way in extending the life of your door because it will allow our technicians to identify anything that requires attention and to take care of it promptly.
Full Lubrication Service
The average garage door is opened and closed several times a day. With most of the door being made of various metals, this can cause a lot of wear and tear over time. Lubricating all those moving parts will help your door operate more smoothly and slow down the wear and tear. Our company uses the highest quality lubricants specifically made for garage doors, and we know which parts require the most attention. We'll lubricate any metal rollers with ball bearings, as well as the hinges and springs, to ensure your door is able to move as smoothly and quietly as possible.
Safety Sensor Testing
The safety sensors of your garage door opener have one of the most important functions and that is stopping a descending door from crushing something, or someone that passes under it. To work properly these photoelectric eyes needs to be correctly aligned and free of dirt so that they'll be able to detect when there's an obstacle in the door's way. Our professionals will test their functionality, as well as that of the force-resistance auto-reverse mechanism, and adjust each feature's settings as needed.
Call Today Instead of Tomorrow
Don't just wait for some part of your system to break and bring your daily routine to a screeching halt. Contact our team at Garage Door Repair Colleyville to schedule a maintenance appointment and sleep comfortably knowing that your system is in safe hands.
We also offer the following:
Genie Garage Door Openers
Oil Tempered Torsion Springs
Garage Door Safety Inspections
Emergency Garage Door Services