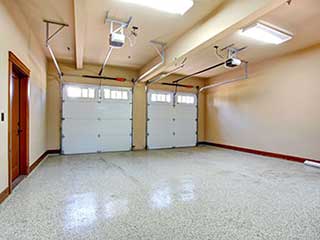 There are three types of garage door openers commonly used today, and each one can have its own specific difficulties. Knowing what to look for can help you prevent serious damage and costly replacement.
Belt-Drive Opener Issues
Often the garage door will not open or close at all, or the trolley will get stuck, which is usually an indication that the up or down limit settings need to be adjusted. Other common problems are a binding belt that results from loose bolts and a bouncing door that can be caused by malfunctioning motor or an obstruction to the belt itself. Any of these issues should be investigated by a professional garage door technician, like our specialists, who will, with the right tools and experience, solve the problem immediately and carry out the necessary repairs.
Troubleshooting Chain-Drive Openers
Most problems that can inflict this type of unit involve either the electrical components or the lifting mechanism (the chain). A chain-drive is usually noisy but particularly scratchy noise might indicate the need for adjustment and lubrication. The bolts and nuts in the rail system and the mounting brackets are continuously under pressure and often become loose, causing the door to rise intermittently or hit the floor too hard. Out of the three types of units, the chain-drive requires the most regular maintenance. If you find that some part of it isn't working correctly, our technicians will be able to repair it.
Common Screw-Drive Opener Problems
The central feature of screw-drive motor units is the carriage that runs along a threaded steel rod. With continuous use the carriage components or the coupler can get damaged and will need to be replaced. Although this type of opener requires less maintenance, it should still be lubricated occasionally to promote a smoother and quieter operation. However, if something goes wrong with it, expert assistance will be required, so don't hesitate to reach out to our team in such an event.
Same Day Service Guarantee
Regardless of the model or the drive type of your garage door opener, if you encounter some trouble you can count on our company to assist you. Not only can we fix everything from motor issues to circuitry problems, we can also replace your entire unit if you decide it's time to get a modern model installed. Contact Garage Door Repair Colleyville and let us know what you need our experts to help you with.
In addition, we offer:

Garage Door Remote Clickers

Noisy Doors Silenced

Garage Door Tune Up Services

Garage Door Cable Replacement