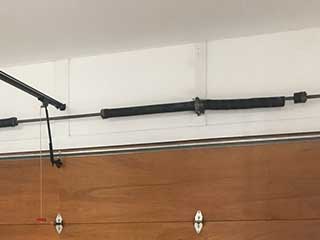 It takes a large number of components to make up a garage door system. While the tracks help to keep your door aligned and the remote triggers the opener to raise and lower the door, it is the springs that do the real heavy lifting.
The Muscles Behind The Mechanism
Garage door springs are the powerhouse behind the system. Whether extension or torsion, they have the task of fully supporting the panels' weight – by way of counterbalancing, they're also responsible for raising and lowering the door panels.
During their lifetime, these components suffered a considerable amount of stress and tension. Over time, they are subject to wear and tear. Should they malfunction, they have the potential to become extremely dangerous - this is why only skilled professionals should undertake a spring repair, adjustment or replacement.
Understanding Spring Types
There are two different types of garage door spring, namely torsion and extension. Torsion types can be either oil tempered or galvanized and operate using torque. It is this that generates tension - via a winding and unwinding motion, they allow the door to safely open and close. Torsion springs are more flexible and durable than extension types of spring. Installed as a pair, extension springs are fitted either side of the door – they do their job by stretching and contracting. This action means that they have a tendency to fly around when broken. To stop this from happening, they usually come fitted with security cables.
Professional Replacement & Adjustment Services
When it comes down to spring repair, our team at Garage Door Repair Colleyville, are all experts that you can rely on. Our qualified technicians have over a decade of experience when it comes to dealing with all types of spring-related problem. From tension adjustment to balance restoration, our local team is on hand to help. Schedule an appointment with a member of our team today!
Count on our team for:

Torsion Spring Repair

Opener Sensor Replacement

Extension Spring Adjustment

Roll Up Garage Door Services