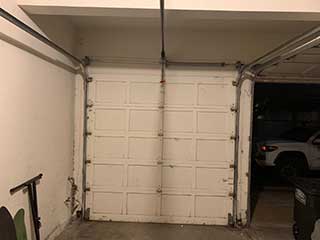 There are few parts of your house as complex as your automatic garage door system. As is the case with any complex machine, there are a lot of different components that can malfunction - from broken springs to worn rollers, there are plenty of different issues that can start to inflict the mechanism. Our team has been providing emergency repair services to local homeowners for the past decade, and we can quickly solve any type of problem you may be experiencing.
Replacing Broken Springs
Sooner or later, your garage door springs will weaken and wear out. This can cause a lot of problems; it puts more strain on your opener and lift cables, to start with, which can lead to premature break downs that can be dangerous, apart from inconvenient. A weak spring can't hold the door properly, and can end up breaking and whipping around, injuring anyone standing nearby. Broken or worn springs should be replaced quickly, and only by professionals, to avoid unfortunate accidents, so if you find yourself facing this type of problem, don't hesitate to give our team a call.
When Cables Need Replacing
The cables that support your door are an integral part of the system as well, and if they begin to wear out and become frayed, they can cause the door to get off track or even slam shut entirely. Our technicians will carefully inspect your cables for signs of damage, and replace them if we find that they're no longer able to safely perform their intended job.
Problems With The Opener
Whether your opener has a belt, chain or a screw drive system, it can experience some issues over time. Accidental damage or just simply the results of constant wear and tear can put this unit out of work rather suddenly. This device can also develop electrical problems, which will cause it to behave erratically or not work at all. Whatever the case may be, our troubleshooting experts are here to quickly find and solve the problem for you.
Don't Delay - Schedule An Appointment Today
Don't suffer through the inconveniences and the potential risks. If you're having some issues with any part of your door system, simply contact our team at Garage Door Repair Colleyville and have the problem dealt with in the shortest amount of time possible.
You can also count on us for:

Opener Clicker Repair

Garage Door Roller Repair

Torsion Spring Adjustment

Part Replacement & Repair